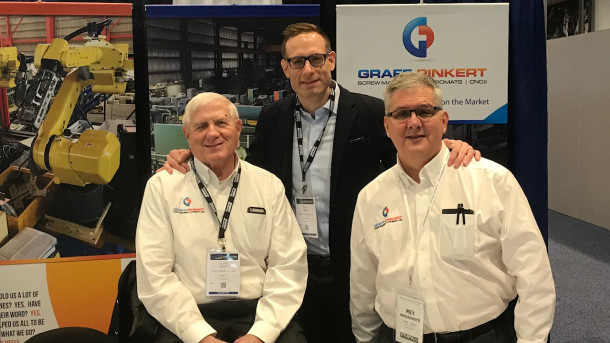 Graff-Pinkert & Co. is a three generation company, started in 1941 by Leonard Graff with his cousin Aaron Pinkert. 
Graff-Pinkert is an international leader in selling used automatic multi-spindle screw machines, including Wickman, INDEX, Tornos, Schutte, Gildemeister, Euroturn (ZPS), Davenport, Acme-Gridley, and New Britain. Graff-Pinkert also specializes in rotary transfer machines, Hydromats in particular. Graff-Pinkert also sells CNC Swiss machines, including Star, Citizen, Tsugami, Tornos, and Hanwha. The company also sells a variety of other types of CNC machines from brands such as Nakamura, OKUMA, Haas, INDEX, Doosan, Mazak, Miyano, and Mori-Seiki. Graff-Pinkert's inventory is held at its 25,000 square foot Oak Forest (Chicago suburb) headquarters.
Graff-Pinkert is the largest North American stocking dealer of Wickman screw machines and is capable of providing refurbished Wickman multi-spindles. Graff-Pinkert also stocks an extensive inventory of new and used Wickman spare parts and attachments. 
From large machines to small replacement parts, Graff-Pinkert has been doing business on eBay™ since 1999 and has a 100% positive feedback rating. Visit our eBay™ store.
Recently Graff-Pinkert has started offerening a new service to companies in the machining industry, matching buyers and sellers of machining companies. With Graff-Pinkert's extensive contacts around the world in the machining field and rich knowledge of the industry gleaned from over seven decades in business it is in a unique position to help machining companies looking to grow as well as help machining company owners who want to retire or capitalize on their assets.